Low Pressure Nylon Expansion Plugs Sizes 0.5″ to 6″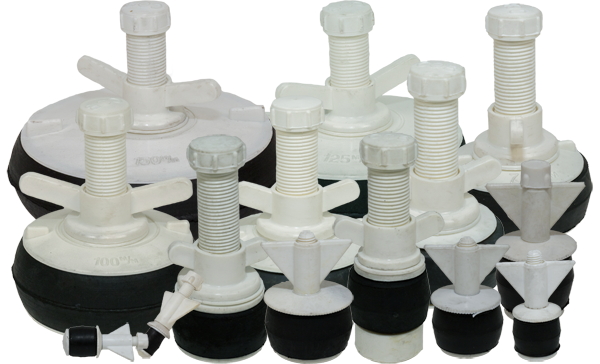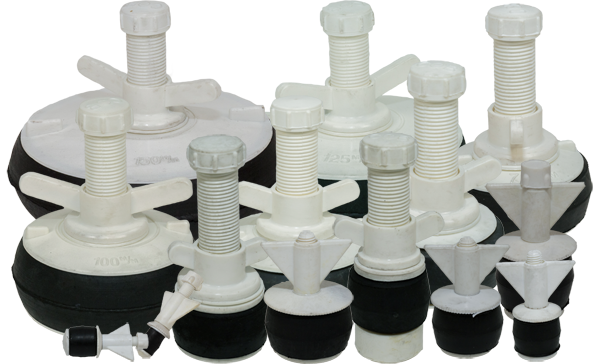 These superior, versatile, expandable plugs are used to accommodate a wide variety of industrial applications where an airtight seal is required.
COB Advantages:
Quality, Lightweight, Durable Nylon 20% lighter than metal.
Tough/shatter-proof and easily cleaned and maintained, corrosion resistant.
Plaster or cement do not adhere to the plug.
Friction-reducing acetyl copolymer thrust washer inserted between plate and wing nut provides for easy expansion.
Natural Rubber provides "superior" seal.
Larger sizes incorporate strengthening ribs to provide rigidity in use.
Silicon, nitrile, and viton seals available.
Solid Stem / SS-0.50″ to 1.50″
Item Number
Nominal Size
Size Unexpanded
Size Expanded
Unit Weight
(LBS.)
SS0.50
0.50″
0.490″
0.600″
1/4
SS0.75
0.75″
0.740″
0.900″
1/4
SS1.00
1.00″
0.975″
1.200″
1/4
SS1.25
1.25″
1.225″
1.450″
1/4
SS1.50
1.50″
1.480″
1.750″
1/4
***SS series now available with vented stem
HOLLOW STEM / VS-0.50″ TO 6″
Item Number
Nominal Size
Size Unexpanded
Size Expanded
Unit Weight
(LBS.)
VS0.50
0.50″
0.490″
0.600″
1/4
VS0.75
0.75″
0.740″
0.900″
1/4
VS1.00
1.00″
0.975″
1.200″
1/4
VS1.25
1.25″
1.225″
1.450″
1/4
VS1.50
1.50″
1.420″
1.930″
1/4
VS2.00
2.00″
1.930″
2.360″
1/4
VS2.50
2.50″
2.400″
2.760″
1/4
VS3.00
3.00″
2.870″
3.310″
1/3
VS4.00
4.00″
3.540″
4.250″
1/2
VS5.00
5.00″
4.720″
5.370″
1
VS6.00
6.00″
5.500″
6.290″
1