Bag Plug Pipe Plugs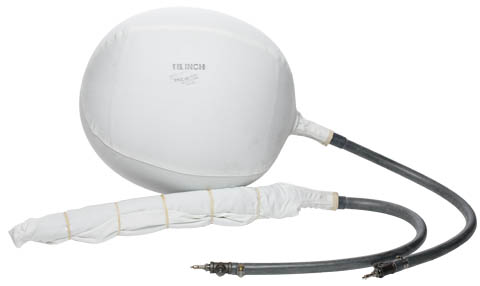 Bag Plugs  for FME Applications or Very Low Pressure Gas Test
Bag plugs are for use wherever a plain rubber bag would not hold. Bag plugs consists of an inner bag made of a high quality Natural Rubber bladder that is then encased in a 100% Polyester fabric cover. The gauge of rubber and polyester vary with the size of the bag. Each size bag is expertly made to insure a snug fit and good shut-off when inflated.
2" – 96" available
Natural rubber with poly cover pipe plugs(nitrile available).
Heat resistant materials available
Note:e: Bag Plug Inflatable Expansion plugs are less effective at higher limits of expansion than in the mid range. Let us help you by supplying the proper sizes for your requirements.
Type BC Bag Gum Rubber Bladder w/ Polyester Cover
Item 
Description
Unit Weight
BC102
2″ Inflatable Bag Plug Pipe Plug with polyester cover
.50
BC103
3″ Inflatable Bag Plug Pipe Plug with polyester cover
.50
BC104
4″ Inflatable Bag Plug Pipe Plug with polyester cover
1.0
BC106
6″ Inflatable Bag Plug Pipe Plug with polyester cover
1.2
BC108
8″ Inflatable Bag Plug Pipe Plug with polyester cover
1.5
BC110
10″ Inflatable Bag Plug Pipe Plug with polyester cover
2.0
BC112
12″ Inflatable Bag Plug Pipe Plug with polyester cover
3.0
BC114
14″ Inflatable Bag Plug Pipe Plug with polyester cover
4.0
BC116
16″ Inflatable Bag Plug Pipe Plug with polyester cover
5.0
BC118
18″ Inflatable Bag Plug Pipe Plug with polyester cover
6.0
BC120
20″ Inflatable Bag Plug Pipe Plug with polyester cover
7.0
BC122
22″ Inflatable Bag Plug Pipe Plug with polyester cover
7.2
BC124
24″ Inflatable Bag Plug Pipe Plug with polyester cover
8.5
BC126
26″ Inflatable Bag Plug Pipe Plug with polyester cover
9.0
BC128
28″ Inflatable Bag Plug Pipe Plug with polyester cover
12.0
BC130
30″ Inflatable Bag Plug Pipe Plug with polyester cover
19.0
BC132
32″ Inflatable Bag Plug Pipe Plug with polyester cover
25.0
BC136
36″ Inflatable Bag Plug Pipe Plug with polyester cover
32.0
BC142
42″ Inflatable Bag Plug Pipe Plug with polyester cover
36.0
BC148
48″ Inflatable Bag Plug Pipe Plug with polyester cover
43.0