Monitor your Critical Welds
The Argweld PurgEye 500 Desk with PurgeNet, this model is ideal for use with Welding Chambers and Enclosures as well as Orbital Welding Machines and other Automatic Welding Systems.
This attractively priced Oxygen Analyzer includes a unique, fast response, long life sensor with little maintenance requirement. The instrument comes complete with an integral pump to deliver regular flow of exhausting weld purge gas to the sensor to ensure consistent measurements and readings.
PurgeLog Software is included for computer interfacing, data acquisition, storage and printing of results and graphs for Quality Management Control purposes.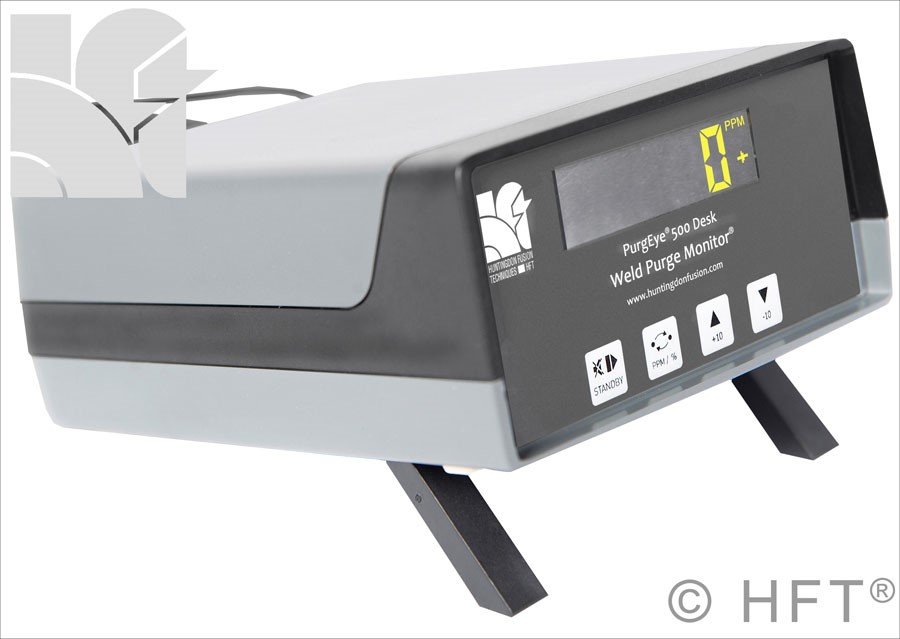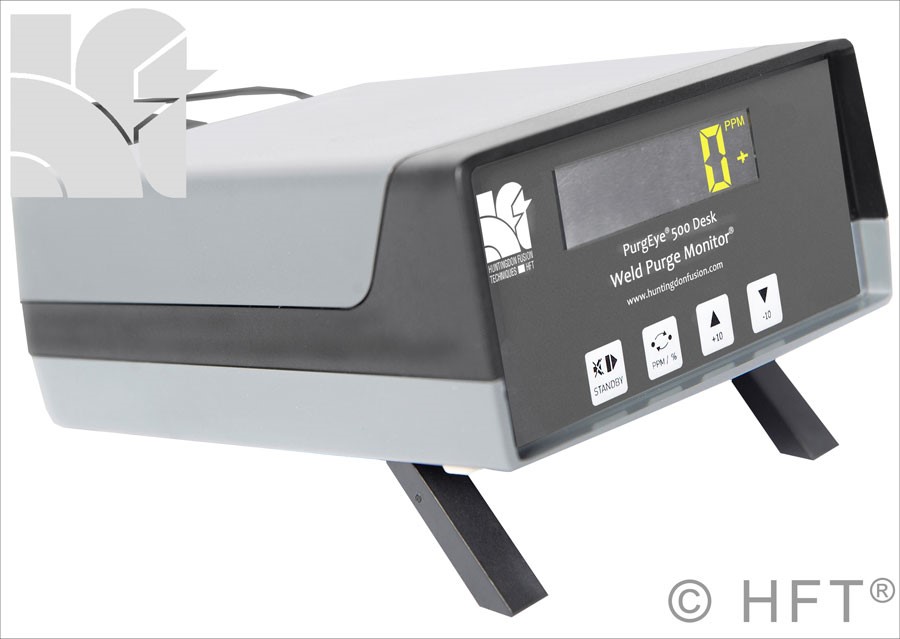 Our Weld Purge Monitors® have been specifically designed for excellent weld purging conditions creating the best oxide-free zero color welds. Oxygen monitors for welding purposes, including gas analyzers (gas analyzers), oxygen instruments or oxygen indicators are not enough to provide good clean welds.
Designed for Zero Color Welds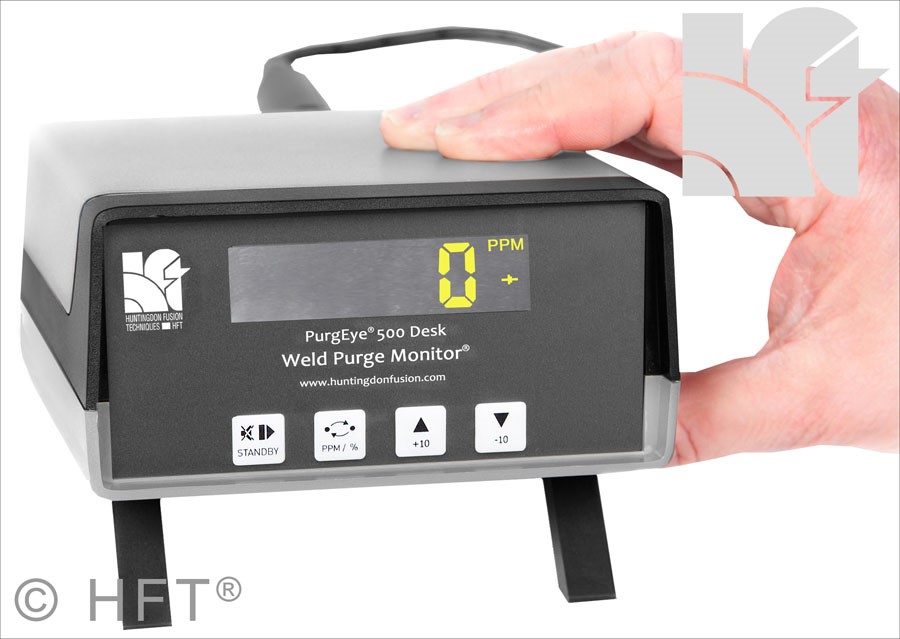 The PurgEye® 500 Desk Weld Purge Monitor® has been specifically designed and developed by Huntingdon Fusion Techniques HFT® as a desk-based instrument that can be integrated with automatic welding equipment for consistent measurement and indication of oxygen levels.
The addition of PurgeNet™ allows the PurgEye® Desk Weld Purge Monitor® to control the welding process for precise measurements of oxygen levels to prevent welding in the event that the level is to high and to continue when the level is low enough, thereby creating zero colour welds every time.
The PurgeNet™ accessory allows control of automatic welding other accessories including visual on/off light for remote viewing, a dew point meter and a temperature monitor for interpass temperature control while purging.
This model is ideal for critical welds on materials such as stainless, duplex and chrome steels along with titanium, zirconium and nickel alloys. It can be used for joints made in Welding Chambers, Flexible Welding Enclosures® as well as for orbital welding applications and for use with Pipe Weld Purging Systems.
The PurgEye® 500 Desk Weld Purge Monitor® is perfect for ultra critical or 'Golden' welds, where oxygen levels need to be indicated to a very precise level as low as 10 ppm.
The PurgEye® 500 Desk Weld Purge Monitor® is particularly suitable for welds in ultra clean conditions, such as in the aerospace and cryogenics industries, food and drinks manufacturing, semi-conductor, pharmaceutical and petrochemical sectors as well as any other process industries.
The integral electro-mechanical pump is designed to extract samples from the purge volume at pre-determined user settable intervals to provide a consistent flow of exhaust purge gas over the sensor, for stable readings and equipment control.
PurgeLog™ Software allows the print out of Quality Management documentation where the recording and auditing capabilities are considered vital to the welding traceability
PurgEye® 500 Desk Weld Purge Monitors® are available for immediate delivery.
Life-Long Sensor with little Maintenance Requirement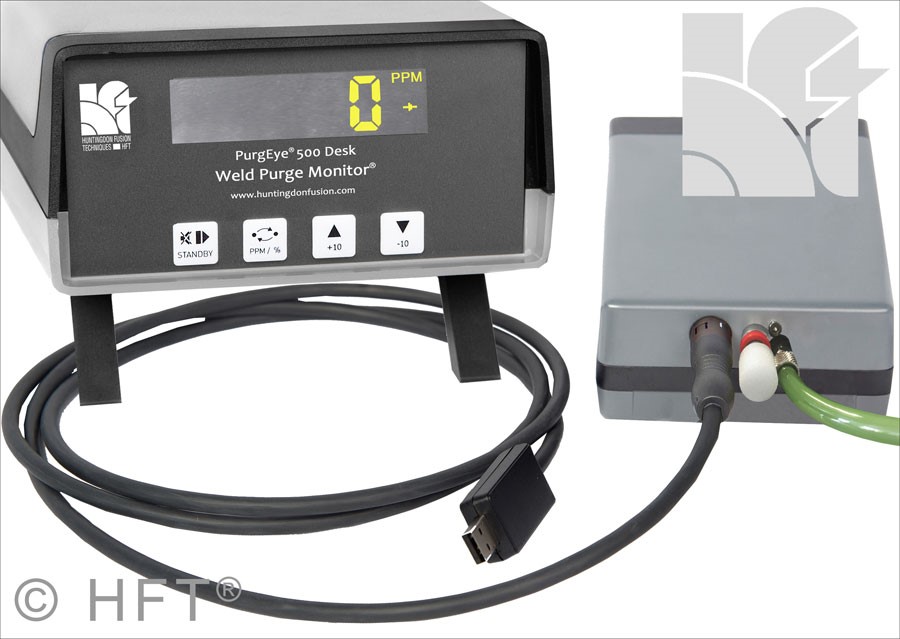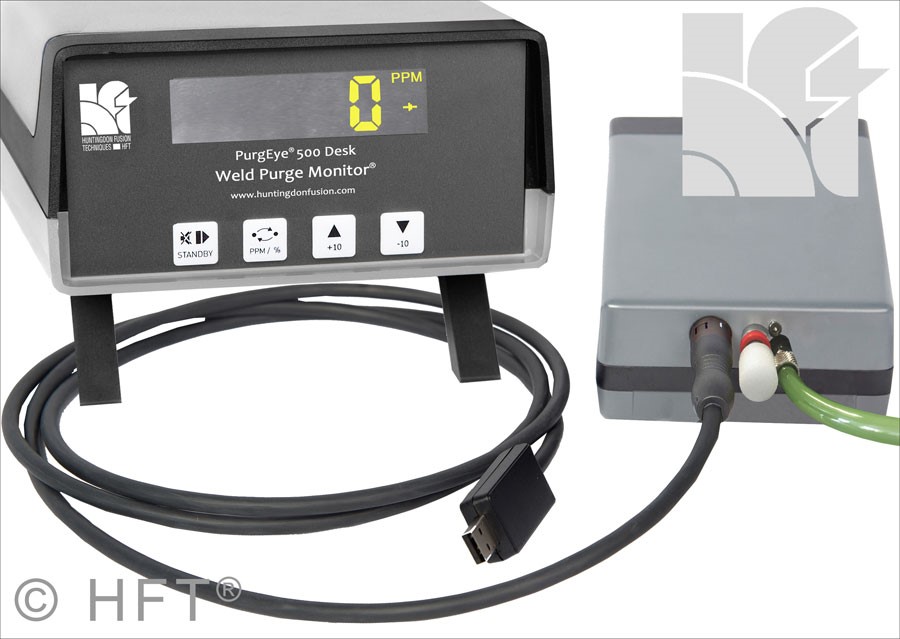 PurgeNet ™
The PurgEye® Desk now comes complete with PurgeNet™, which controls all Automatic Welding Systems as well as Orbital Welders, causing them to switch on and off for example when oxygen level rises too high or falls to low.
For control of Automatic Welding Equipment by a Weld Purge Monitor®, the relevant cable accessory will be used. At that point, the Monitor will switch off your automatic welding system if by any chance the oxygen level should rise above your pre-set limit, to prevent the risk of weld oxidation. The Monitor will switch the welding system back on, once the excess oxygen has been purged away.
PurgeAlarm ™
The IP66 Rated (Environmental Protected) PurgeAlarm™ displays a red indicator, only if the PurgEye® has warmed up, the alarm enabled and is reading a greater value than the alarm threshold set by the user.
An optional green indicator can be fitted above the standard red indicator and will illuminate only if the alarm is active and reading a value lower than the alarm threshold set but the user. A sounder is available as an option to provide an audible alarm instead of the red light.
PurgeNet™ also works with PurgeLog™ to easily transfer weld purge data for Quality Control purposes.
The PurgEye® 500 Desk Weld Purge Monitor® is small, lightweight and portable. The automatic fault finding diagnostics can detect and report a number of possible faults.
Now with an OLED (organic light emitting diode) display, the PurgEye® 500 Desk Weld Purge Monitor® gives sharper, brighter and clearer readings for viewing at longer distances than before.
The monitor is menu driven by two of the four buttons on the front panel and it has an internal alarm with high and low points for oxygen level that can be set with the other two buttons.
The rugged, high frequency (HF) proof instrument measures and clearly indicates actual oxygen levels from 1,000 down to 1 ppm (accurate to 10 ppm).
The PurgEye® 500 Desk Weld Purge Monitor® incorporates an automatic internal audible alarm in the event of sudden oxygen level increase, or when the oxygen level reaches the lowest required point. The oxygen levels can be set by the operator. The integral electro-mechanical pump for extracting a gas sample works automatically where it is required to deliver a constant flow of exhaust purge gas over the sensor. The PurgEye® 500 Desk Weld Purge Monitor® comes with a unique, fast response, long life sensor with little to no maintenance requirement. Special attention has been paid to electrical shielding to avoid interference. 
With Electro-Mechanical Integral Pump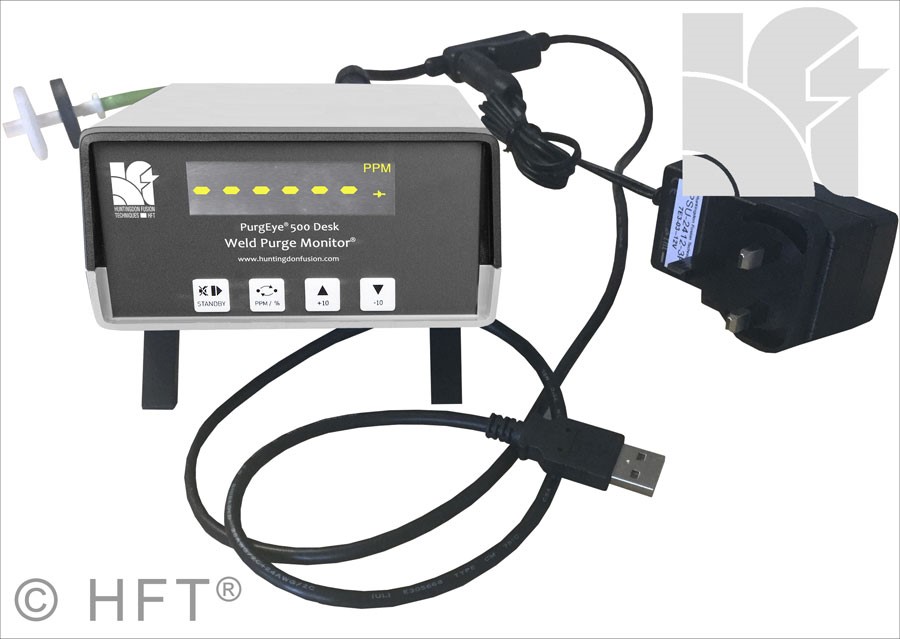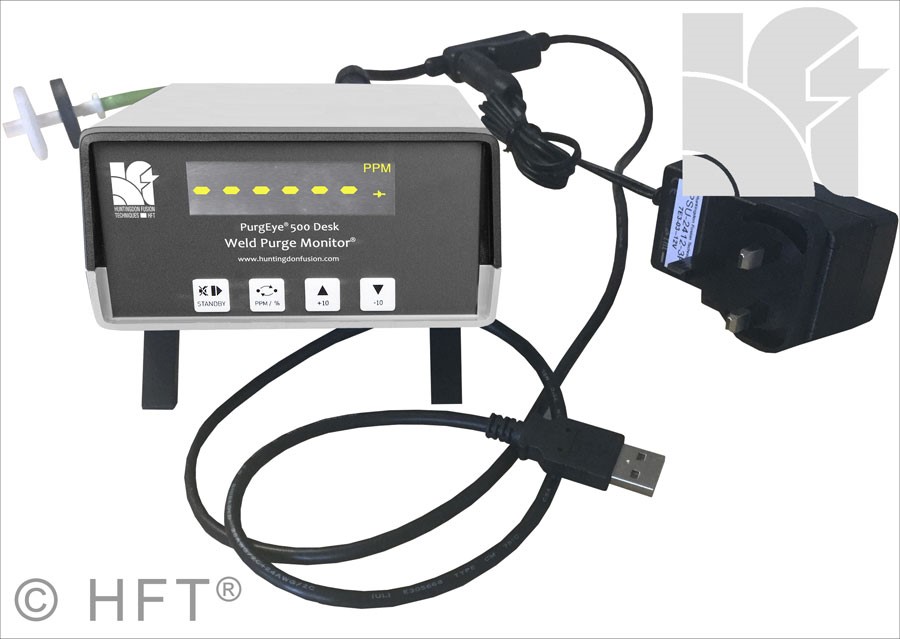 The Argweld® PurgEye® 500 Desk Weld Purge Monitor® has a large OLED screen, is menu-driven using four operating buttons on the front panel and has a user interface for external alarm, high/low ppm settings, on/off welding power supply switching and is manufactured to ISO 9000 Quality Standards. Display readings can be shown in ppm or percentage.
The Argweld® PurgEye® 500 Desk Weld Purge Monitor® has an RS232 serial port for connection to a PC.
PurgeLog™ data logging Software requires a PC running Microsoft® Windows and is compatible with the latest version. The recording and auditing capabilities of the HFT® Family of Weld Purge Monitors® are considered vital critical weld requirements where traceability is an ever increasingly important issue and Quality Management print outs are automatically available with PurgeLog™. The data connection cable is included.
PurgeNet™ to provide the control of automatic welding systems via one of its accessories switching on and off according to oxygen levels.
Supplied with:
External 12 V Power Supply Unit (including multiple international mains adaptor Connections) with an nput voltage range of AC 90 to 260 V.
Input purge gas sample tube (green, 1 m) with filter
Interface data connection cable
User instruction technical manual
Storage and presentation case
Calibration Certificate for the purpose of Quality Control Procedures and Management Systems

Argweld® PurgEye® 500 Desk Weld Purge Monitor® Accuracy Range
| | |
| --- | --- |
| Measuring Range: | 1,000 ppm down to 10 ppm |
| Accuracy: | ±2.0% of scale reading |
| Size: | 145 x 190 x 70 mm |
| Power Consumption: | 18 W |
| Operating Voltage: | AC 115/230 V single phase 50/60 Hz |
| Weight: | 2.2 kg |
| Pump Flow Rate: | 3.5 – 4 litre/min |
Dew Point Sensor(optional)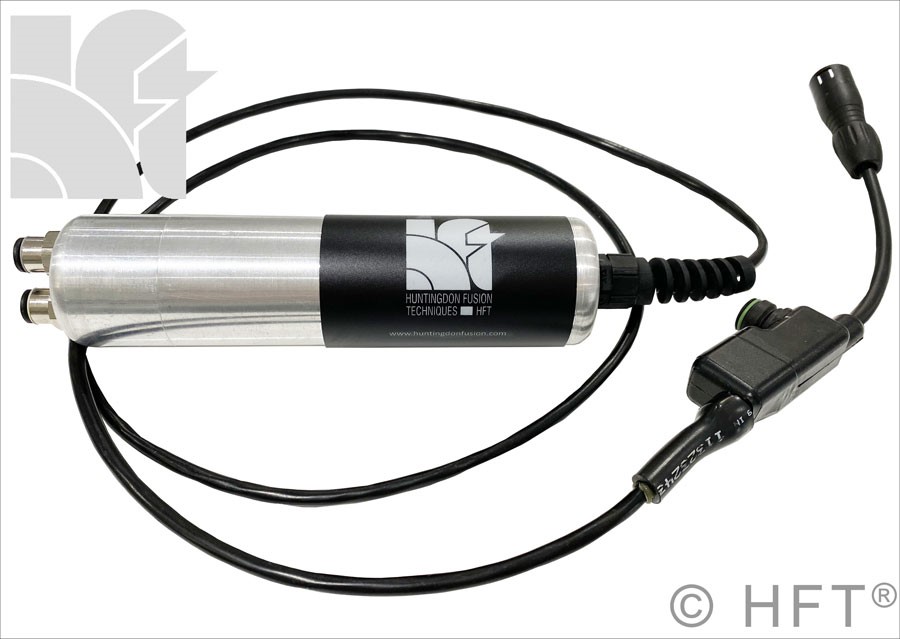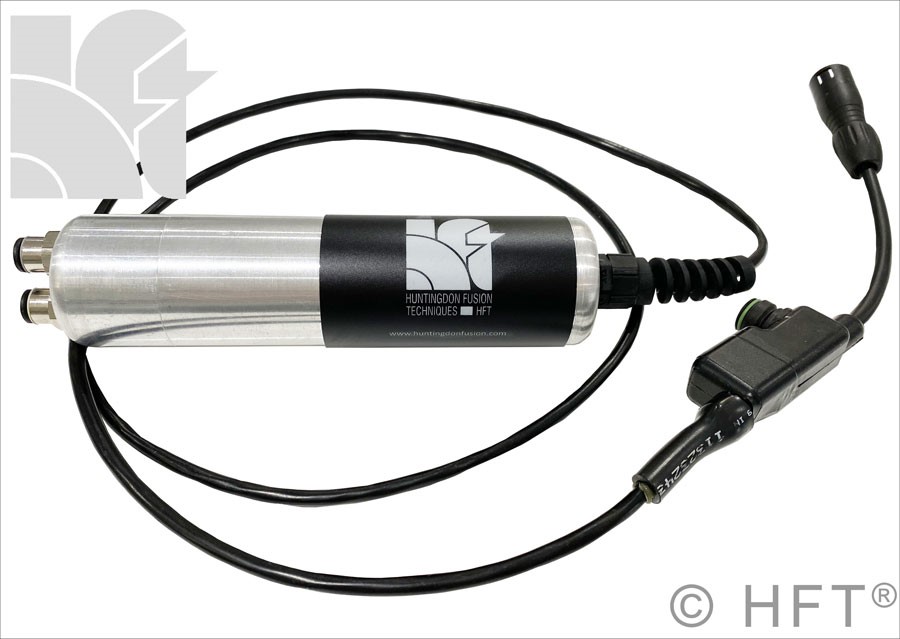 Dew Point SensorDuring purging welders need to measure the oxygen content but also need to measure the 'dew point'.
The dewpoint is the temperature where condensation begins and water will condense on the material being welded. This can affect the weld properties significantly.
We have recently added a Dew Point Sensor to our range that can be used in conjunction with our range of 10 ppm Weld Purge Monitors®, so rather than purchasing a separate, expensive Dew Point Meter, HFT®'s Dew Point Sensor that can be connected to the Weld Purge Monitor® via the PurgeNet™ lead.
The dew point sensor is designed to fit any of our Weld Purge Monitors® that read down to 1ppm:
– PurgEye® 200
– PurgEye® Desk
– PurgEye® 600
– PurgEye® 1000
– PurgEye® Site