Distributor in S. Korea Completes Freeze Seal Test On 24" Pipe With New Accu-Freeze® Jacket And Valve Manifold Prototype
December, 2014—GEOS Co., Ltd. is the agent in South Korea for COB Industries' Qwik-Freezer® and Accu-Freeze® Pipe Freezing Systems, and they were contracted by a large power utility company to conduct a feasibility study with regards to performing freeze seals on large diameter steam lines. Directors from GEOS visited COB Industries in Florida to discuss this project, and COB Industries experts explained that while steam cannot be frozen there is a possibility of back-filling lines with water and creating freeze seals to isolate the lines which would accomplish the primary goal.
Following subsequent meetings in Seol, GEOS was then given the green light to contract with COB to conduct the first phase of testing by conducting a Freeze Seal Test using Accu-Freeze® equipment on a 24" Carbon Steel Pipe. GEOS and COB met once again and COB proposed a custom 24" Liquid Nitrogen Freeze Jacket with multiple LN2 inlets, a manifold prototype including multiple Accu-Freeze® solenoid valves and a custom control box containing (4) Accu-Freeze® digital controllers (see photos below). COB Industries built the equipment and shipped it to S. Korea where the test was conducted by GEOS personnel. The test was 100% successful and an ice plug was formed over a 16 hour period and then pressure was applied to pressure test the 24" ice plug to over 140 PSI.
COB Industries has been manufacturing Pipe Freezing Systems for over 45 years and their patented Accu-Freeze® equipment is used by the U.S. Navy, power plants and mechanical contractors around the world.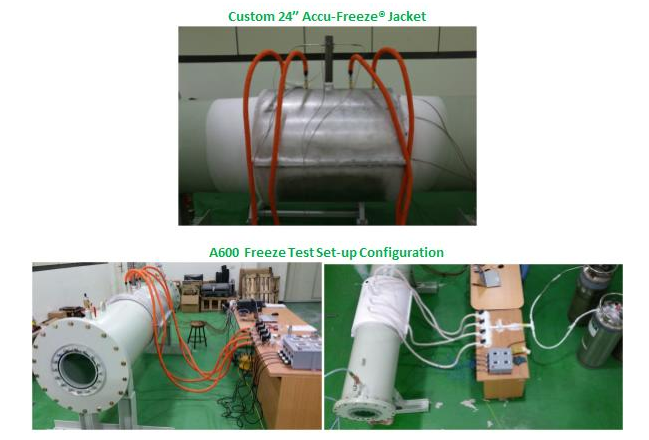 Custom 24" Accu-Freeze® Jacket
2. A600 Freeze Test Set-up Configuration
Formation of 24" Ice Plug
Pressure Testing 24" Ice Plug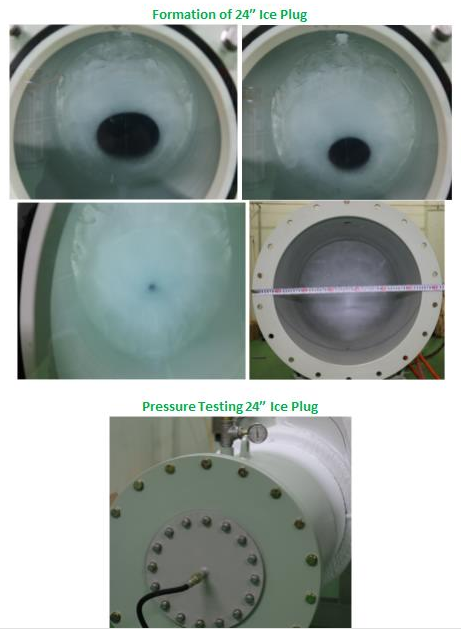 For more information contact Cletus O'Brien or Troy Palmer at www.cob-industries.com
or call 321-723-3200.