PRECISION AIR CONDITIONING OF BREVARD COMPLETED MULTIPLE FREEZE PLUGS AT CENTRAL REFERENCE LIBRARY IN COCOA FLORIDA USING COB INDUSTRIES ACCU-FREEZE SYSTEM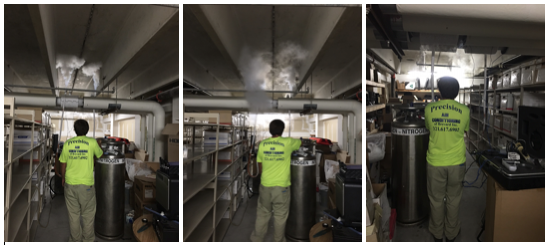 The work in the photographs was performed at the Central Reference Library in Cocoa Florida. Precision Air Conditioning of Brevard is the Prime Contractor performing a major mechanical renovation/upgrade to that facility for Brevard County.
The need to maintain temperature and humidity control is paramount as this facility contains many of the genealogic documents related to Brevard County. These particular line freezes were performed using the COB Industries Accu-Freeze System.
The work consisted of freezing (2) 6" dia. Chilled Water lines and (2) 4" dia. Hot Water lines all of which were Sch. 40 Carbon Steel Pipe. During the time six 3" butterfly valves and ten 2" ball valves were replaced downstream, which required the ice plugs to be maintained for approximately 4 hours. The line freezes and subsequent replacement of the isolation valves, will allow work on individual AHU's in a localized manner, without shutting down the entire HVAC system.
The line freezes were utilized to prevent the need to drain/capture/re-fill approximately 1400 gallons of treated Chilled water and Hot Water, which would have been very time consuming and costly.