Accurately measuring down to 10 ppm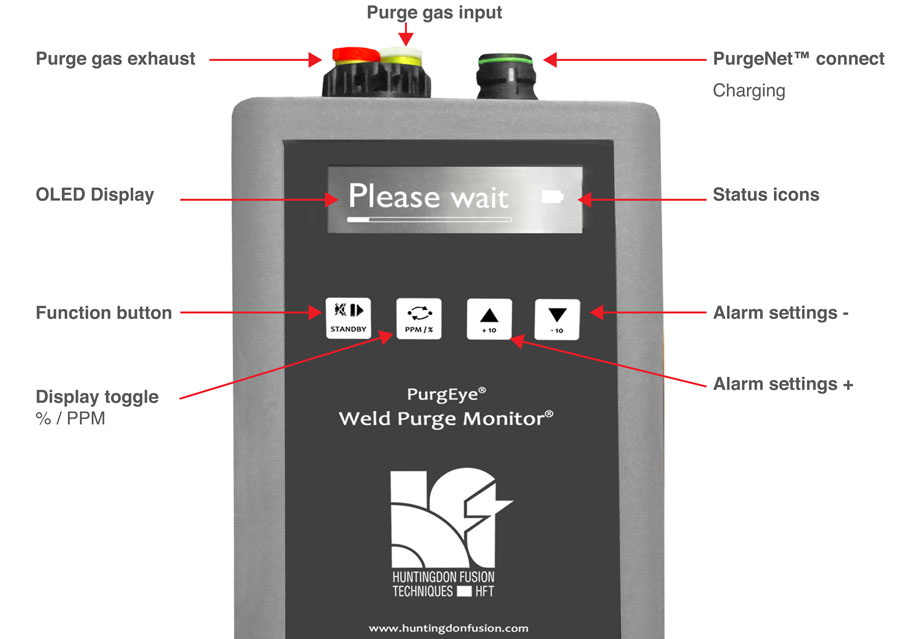 Now with an OLED display, the PurgEye ® 200 Weld Purge Monitor gives sharper, brighter and clearer readings for viewing at longer distances than before. The OLED display is mainly symbol based, which means the menus are easily understandable regardless of which languages the user speaks.
The handy PurgEye 200 is battery or power driven, with charging carried out from a dock (optional). Battery life is up to 10 hours.
The PurgEye 200 faster response and a long-life sensor.
It also has loud, pre-settable audio alarms for rising or falling oxygen levels between 1 and 999 ppm as well as alarm + and – buttons for displaying threshold oxygen settings,
In addition, there is an alarm mute as well as flow detection for accurate reading of gas samples.
The PurgEye 200 also comes complete with leak tight connect / disconnect gas hose connections.
The PurgEye 200 features PurgeNet ™, allowing the addition of standard accessories that will allow the Weld Purge Monitor to be linked with automatic welding machines such as orbital welders, a traffic light accessory to give visual indication of the Purge process and final a dew point meter. As with all other HFT products, the Argweld PurgEye 200 Weld Purge Monitors are always in stock and available for immediate delivery Worldwide.
IP65 Rated, Rechargeable and Handheld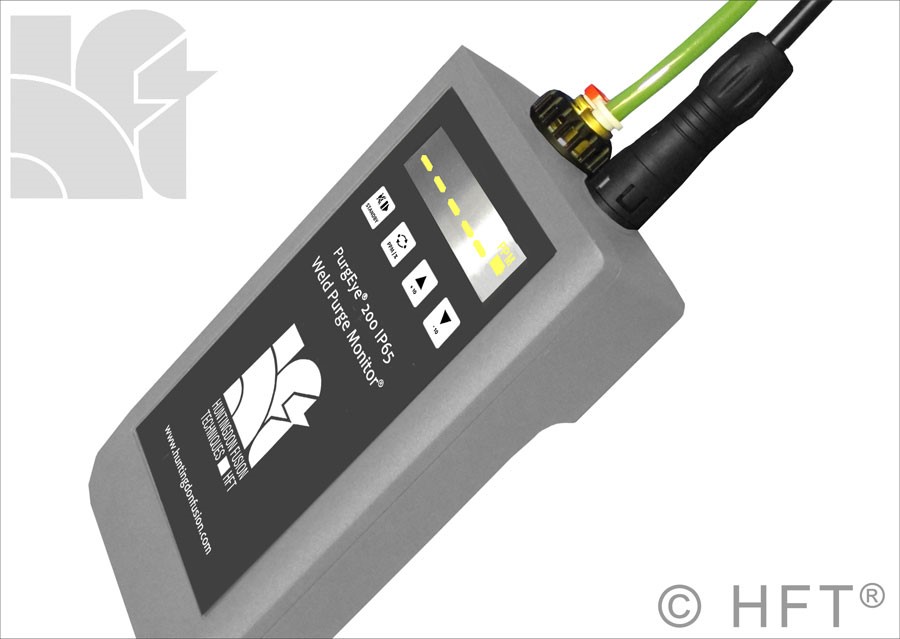 The Argweld PurgEye 200 is IP65 rated against dust and moisture. It is highly accurate to 10 ppm. The Monitor is lightweight, handheld and rechargeable.
Features include:
PurgeNet ™
The PurgEye 200 now comes complete with PurgeNet™, which controls all Automatic Welding Systems as well as Orbital Welders, causing them to switch on and off for example when oxygen level rises too high or falls to low.
For control of Automatic Welding Equipment by a Weld Purge Monitor, the relevant cable accessory will be used. At that point, the Monitor will switch off your automatic welding system if by any chance the oxygen level should rise above your pre-set limit, to prevent the risk of weld oxidation. The Monitor will switch the welding system back on, once the excess oxygen has been purged away.
PurgeAlarm ™
The IP66 Rated (Environmental Protected) PurgeAlarm™ displays a red indicator, only if the PurgEye® has warmed up, the alarm enabled and is reading a greater value than the alarm threshold set by the user.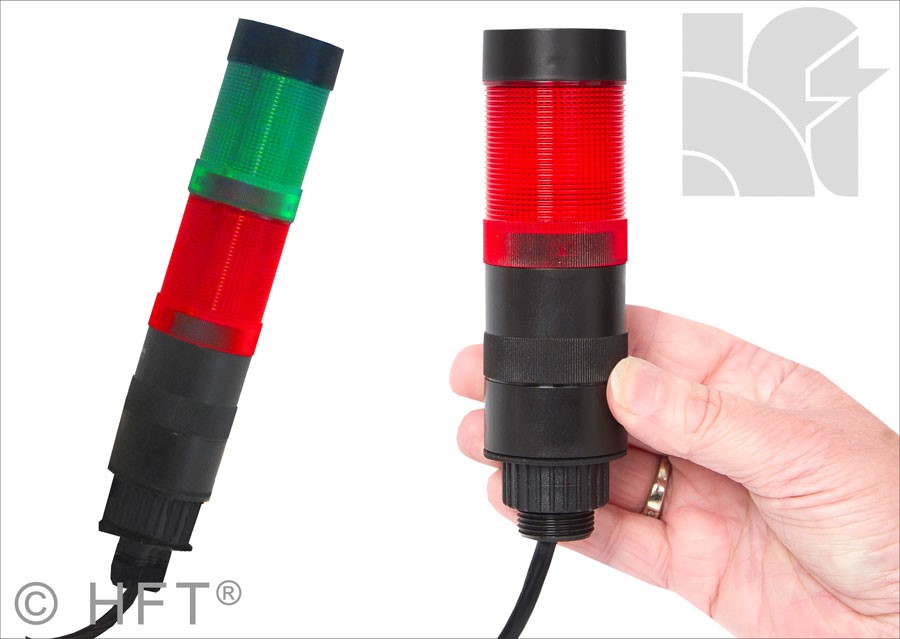 PurgeNet™ also works with PurgeLog™ to easily transfer weld purge data for Quality Control purposes.
Rechargeable Battery and Mains Powered
The PurgEye ® 200 can be run by a rechargeable, long life battery lasting up to 10 hours or by 110/240v power. The PurgEye 200 is now available with an optional charging dock
OLED Display
The PurgEye ® 200 now has an OLED (organic light emitting diode) display, for brighter, shaper, clearer readings.
Auto Power-Off
If the PurgEye ® 200 is left with an over-range reading for more than 15 minutes, it will automatically turn off to conserve batter power.
Warning Alarms
The warning alarm can be set to any level between 1 and 999 ppm. The Monitor features both audible and visual indication when the alarm threshold is exceeded.
Flow Detection
The flow warning exclamation icon will be displayed whenever the flow of sample gas drops below the minimum flow rate required for an accurate reading. An alert icon indicates where there is insufficient flow of purge gas, which could be caused by a blocked filter.
Power On / Off
If the PurgEye ® 200 IP65 is off, then pressing the standby button will switch it on and it will start the sensor warm-up procedure. Holding the standby button for approximately 10 seconds or until it turns off can turn off the Monitor.
Integral Sampling Pump
With the PurgEye ® 200 switched on and the alarm inactive or muted, pressing the standby button will turn the integral electro-mechanical sample pump on and off.
Alarm Buttons
Settable alarm buttons on the PurgEye ® 200 ensure the desired oxygen ppm level is in place.
Guaranteed Accuracy
The PurgEye ® 200 IP65 Weld Purge Monitor® indicates oxygen levels from 1000 ppm down to 10 ppm (0.001%), so use an Argweld ® PurgEye ® Weld Purge Monitor ® every time for guaranteed accuracy of oxygen indication to allow a weld start with minimal risk of oxidation.
Technical Data and Specification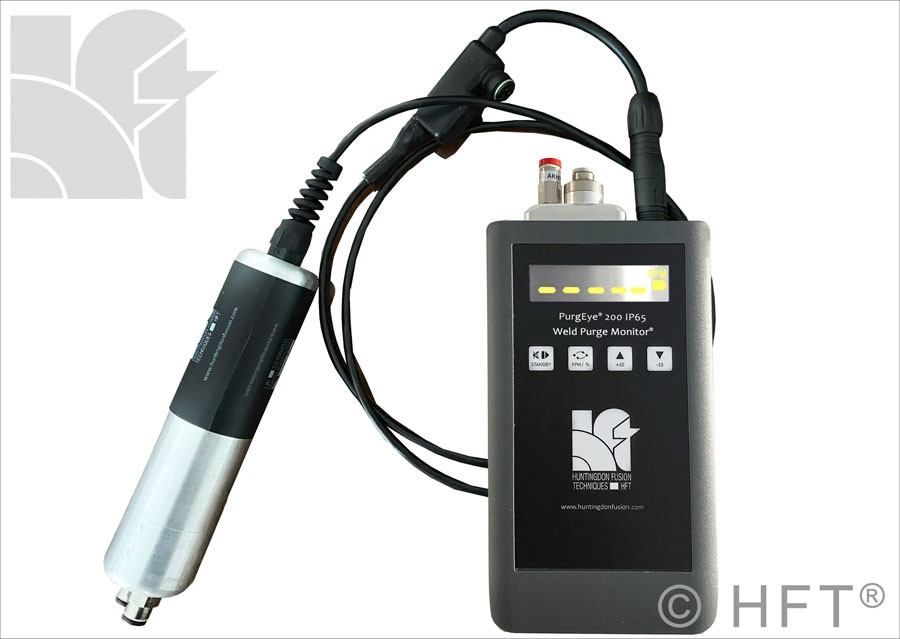 The Argweld PurgEye 200 IP65 Rechargeable Weld Purge Monitor can be used with any Tube, Pipe or Pipeline Weld Purging System, any Flexible Welding Enclosure and Weld Purge Chamber. The PurgEye 200 can be used for any Weld Purging technique for measuring oxygen levels from 1,000 ppm to 1 ppm (accurate to 10 ppm).
The PurgEye ® 200 IP65 Rechargeable Weld Purge Monitor ® can be used as a continuously reading instrument with free flow of the purge exhaust gas across the sensor, or as a sampling instrument with the integral electro-mechanical vacuum pump.
The Argweld ® PurgEye ® 200 IP65 Weld Purge Monitor ® has been specifically designed to be rechargeable battery power operated or mains power driven. It contains 4 standard rechargeable AA batteries and is supplied with a rechargeable battery unit and charger.
The Argweld ® PurgEye ® 200 IP65 Rechargeable Weld Purge Monitor® has a working temperature between 0 and 70°C (32 and 158°F) and a two-minute warm up time.
The PurgEye ® 200 Weld Purge Monitor ® is shipped in a new, low volume, ergonomically designed, robust carrying, presentation and storage case to maintain the instrument in good condition and to keep it together with all accessories.
Storage Carry Case dimensions: 377 x 322 x 95 mm.
Shipping dimensions: 380 x 100 x 300 mm.
Net weight 2.0 kg.
Volumetric weight with case: 2.28 kg.
Instrument dimensions: 225 length x 115 widest point x 40 mm depth.
Instrument weight: 400 gms (without batteries).
Supplied with:
Storage case.
150 mm long red tube to attach to red purge exhaust.
1 meter long green tube with inlet filter.
Charging unit for internal batter with mains plug adaptors for all countries.
User instruction booklet.
Dew Point Sensor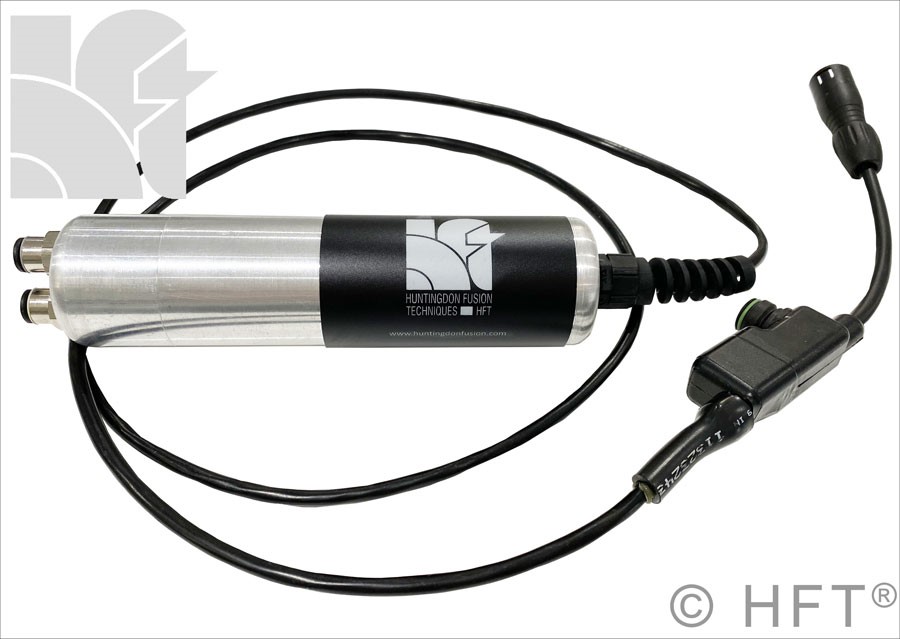 During purging welders need to measure the oxygen content but also need to measure the 'dew point'.
The dewpoint is the temperature where condensation begins, and water will condense on the material being welded. This can affect the weld properties significantly.

We have recently added a Dew Point Sensor to our range that can be used in conjunction with our range of 10 ppm Weld Purge Monitors®, so rather than purchasing a separate, expensive Dew Point Meter, Dew Point Sensor that can be connected to the Weld Purge Monitor® via the PurgeNet™ lead.
The dew point sensor is designed to fit any of our Weld Purge Monitors® that read down to 1ppm:
Frequently Asked Questions
1.0 What is the intended application of the Argweld ® PurgEye ® 200 IP65 Weld Purge Monitor®?
For extreme weld quality control in aerospace, semiconductor, pharmaceutical, vacuum, biotech, food and drinks industries where pristine oxide free welds have to be achieved.
Also, applications demanding extremely accurate readings from atmosphere right down to 10 parts per million (ppm), such as welds made in titanium, duplex, nickel alloys and high specification stainless steels.
2.0 Does the Argweld® PurgEye ® 200 IP65 have a pump?
Yes, there is a an integral electro-mechanical pump.
3.0 What sort of sensor is used in the Argweld ® PurgEye ® 200 IP65 Weld Purge Monitor ®?
The Argweld ® PurgEye ® 200 Weld Purge Monitor ® uses a solid-state long-life sensor of a unique design. It is much lower in cost than other sensors that are used for measuring down to 10 ppm.
4.0 My Company needs a calibration certificate once a year for all instruments. How do I obtain one?
At present we have calibration facilities in the UK, USA, Singapore and Norway. As time goes by we are planning to set up others.
Once your instrument has been sent, contact us or your nearest distributor for pricing, we will recalibrate it and return it with a certificate within a few days.
5.0 Is the Argweld ® PurgEye ® 200 IP65 Weld Purge Monitor® sensitive to electrical high frequency disturbances?
Each instrument has shielding to prevent most forms of interference. Quality control test and inspection criteria are designed to account for as many variables as possible.
6.0 I need to detect oxygen level in pipes preheated to 300°C (572°F). Can I use the Argweld ® PurgEye ® 200 IP65 under these conditions?
The Argweld ® PurgEye ® Weld Purge Monitors® should not be exposed to gas at a temperature above 50°C (122°F). Please contact us for information about exhaust purge gas cooling methods.
7.0 What is PurgeNet™?
PurgeNet™ controls the welding power sources such as orbital welders and any other automatic welding systems to switch on and off according to oxygen levels, transferring data easily with the ability to link to external devices.
8.0 Can Weld Purge Monitors® only be used when purging with argon?
The PurgEye® Weld Purge Monitors® measure the oxygen level within any gas, not only inert gases. They can be used to monitor the oxygen level when using inert gases such as argon and helium and also non-inert gases including nitrogen and nitrogen/hydrogen mixes.